In 2012 in Bwindi Impenetrable National Park there are 10 habituated gorilla families in the Park. Among these, only 9 are open for tourism and the remaining one called Kyaguriro family in Ruhija, is dedicated for research purposes only. The habituated gorilla families are distributed within the size of the protected forest and accessible from four different trekking points: Buhoma (Mubare, Rushegura, Habinyanja) in the North-West, Ruhija sector (Bitukura, Oruzogo and Kyaguriro) in the North-East; Rushaga (Nshongi, Mishaya, Kahungye) in the South-East; Nkuringo (Nkuringo) in the South-West.
The tractable gorilla families include:
The group has a family size of 5 gorillas and 1 silverback. It was the first Gorilla group in Uganda to be opened for Tourism. The group was opened in 1993 for tourism as it's the oldest Gorilla group in the country. The group location is in Buhoma side of the Park and particularly in Mubare Hills. Originally, at the time of habituation, this group had 12 Family members and by then it was led by a dominant Silverback called Ruhondeza. The population went on increasing and by 1996, the group had 18 members. However, due to consecutive fights, the group numbers have now reduced and there are only 5 individuals with one silverback named Kanyonyi after the death of Ruhondeza. Other group members include Muyambi which is a black back Gorilla, Kashundwe and Malaika which are the Adult females and Kashundwe who is a baby.

History of Mubare group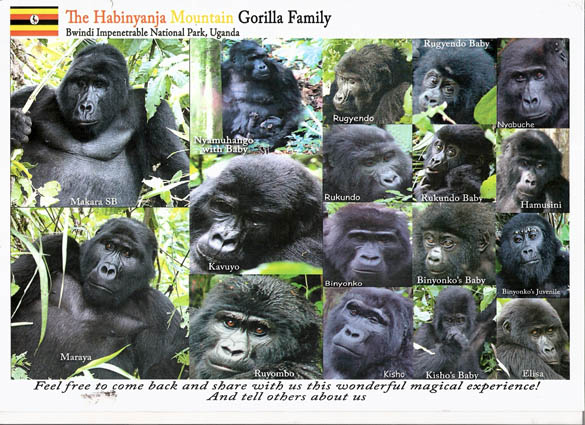 This group was opened for tourism in July 1998. It is also located in Buhoma side and was first visited by tourists in 1999. The group derives its name from "Nyanja" which is the local word for 'a body of water'. The name therefore refers to the swamp in Bwindi Impenetrable Forest where the group was first sighted. Habinyanja is a fascinating family with 18 members including 2 silverbacks. The group adult females are led by the shrewd alpha female called Kisho. Other group members are Makara and Rwansigazi (Silverbacks), Maraya (Black Back), Nyabukye, Binyonko, Rugyendo and Nyamuhango (Adult females), Elsa and Hamusini (Juneniles), Hakato, Gacyaro and Bagenyi who are infants.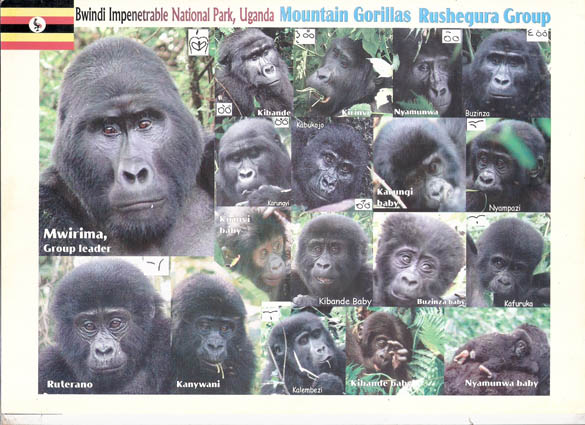 The group has a family size of 20 members with 1 Silverback. It is found in Buhoma and was opened for tourism in 2002. The group was brought together after one of the silverbacks from the Habinyanja group decided to break away. Initially, the group started 12 individuals including 5 females. Sometimes the group is also referred to as "Habinyanja 2 group" and after the break up, it quickly received a new name, which derives from "Ebishegura" which is a tree species that was abundant in the home area of the new family. This is one of the most calm families and it's not usually far from Buhoma Village. At times, the group members are seen wondering through the gardens of the lodges in Buhoma. Group members are Mwirima (Silverback), Kabukojo (Blackback), Kibande, Nyamunwa, Karungi, Kirinvi and Buzinza (Adult female), Kalembeezi, Ruterana, Kanywani, Kafuruka, Nyampazi and Karungi (Juveniles), Kibande, Kirinvi, Karungi, Nyamunwa and Buzinza (Baby Infants)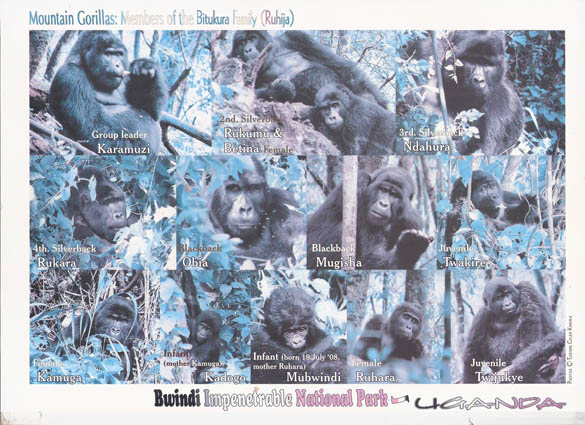 Originally, the family had twenty four members but as of now, there are only fourteen individuals with four silverbacks. The former Silver back named Karamuzi stayed over 40 years and now he is retired and the group is under the leadership of another silverback called Ndahura. This Gorilla group is found in Ruhijja sector of Bwindi National Park and its name was derived from a river where it was first sighted. Its habituation began in July 2007 and it only took UWA 15 months rather than the normal 2 years to open it for tourism simply because it was frequently encountered by the UWA rangers and hence its habituation process was relatively easy. Bitukura is a peaceful family including 4 silverbacks and some playful juveniles. They share a close bond and often have 'group meetings' or get-togethers. Other family members include: Mugisha and Obia (blackbacks), Ruhara, Kamunga and Betina (adult females), Twakire (juvenile), Mubwindi and Kadogo (infants), Ruhara and Rukumu (silver backs).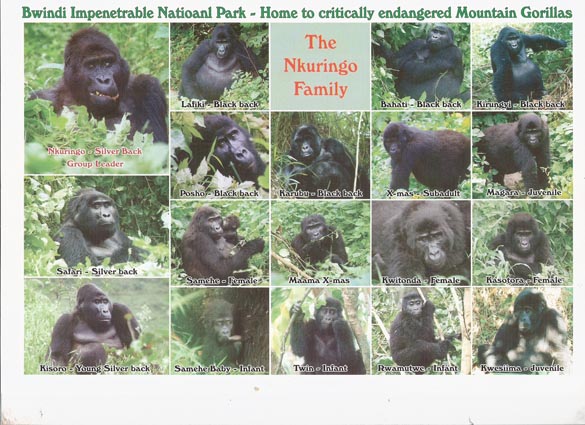 This group was opened up for tourism in April 2004 and it is located in Nkuringo sector in the southern part of the Park. The group has 20 members including 3 silver backs. It derives its name from the local Rukiga word for "round hill". The major reason for their habituation was the problems they created for the local communities by destroying crops and other products. Therefore the Uganda Wildlife Authority knew that once this Gorilla group is opened for tourism, the local community could directly benefit from tourism and it formed a protection for the gorillas as well. The family was led by the silverback Nkuringo who died in 2008, leaving behind 2 silverbacks in the group. In November 2008, the Nkuringo family expanded thanks to the special birth of a twin – Katungi and Muhozi – though Katungi unfortunately died at the age of 1.5 years. Other family members in the group include: Safari, Kirungi and Rafiki (Silverbacks), Bahati, Posho, Karibu and X-Mas (Blackbacks), Kwetonda, Kasotora, Mama Xmas and Samehe (Adult females), Ramutwe, Magara, Kwesima and Kuhirwa (Juvenile), Tabu, Fulaha, Muhozi and Kiiza (Infants)
The family size of this group is 25 gorilla members with 4 Silverbacks. Within the past few years, the group was habituated and was open for researchers only until when it was officially opened up for tourism in September 2009. It is located in Nshongi/Rushaga sector of the Park and is the largest group ever habituated. It was named after the river Nshongi, close to the place where the gorilla family was first seen. Although most gorilla families usually consist of 25 members with one or two silverbacks, this family was a rare exemption. Another remarkable fact is that the group is led by Nshongi, who is not even the oldest silverback in the family. In July 2010 however the group was split into two. The remaining group members include: Nshongi, Kakono, Bweza and Busasi (Silverbacks), Matama, Bwire, Bunwa, Kutu and Tifayo (Blackbacks), Nkuhene, Munini, Shidah, Bukozo,Nyampundu and Bwiruka (Adult Females), Tindatine, Mahoro, Mureba, Ruheruka and Muchunguzi (Juveniles), Mpororo, Fortunate, Katono, Kazani, Mukiza and Ninsiima (Infants)
This is a family that was formed by a Silverback named Mishaya which left the Nshongi group with 9 others in July 2010 to establish its own Mishaya Group. It is one of the latest Gorilla groups to be opened for Tourism. It was opened up in 2011 and it's located in Nshongi/Rushaga area. To access this Gorilla group, clients will set off from the main Headquarters in Rushaga on foot or take a 30min drive to the trailhead. Mishaya was also able to gather more females from other groups in the area, getting to a total group size of 12 gorillas with one Silverback and three infants. Mishaya is the only adult in the group and is known for being a fighter who often starts interactions with other gorilla families. Other members in the family include: Bakunzi and Mwiza (Adult females), Rutaro and Mize (Juveniles), Mwiza Baby 1 and 2, Bakunzi baby and 2 more (Infants).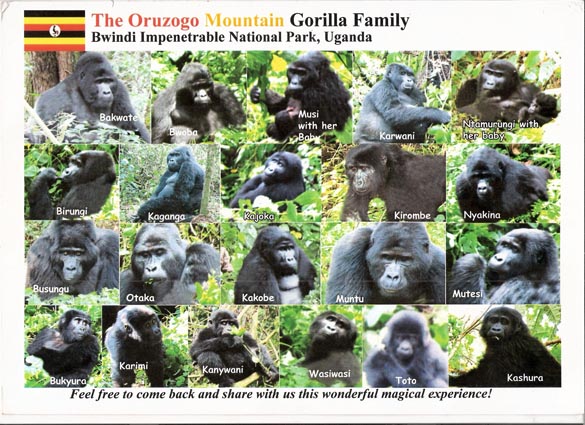 The family size of this group consists of 23 gorilla members with 2 silverbacks namely Bakwate and Busungu who could be around 35 years of age. It's the latest habituated gorilla family and was opened for tourism on 20th June 2011. This increased the great opportunity for more visitors to track the gorillas in Bwindi national park. Ntamurungi gave birth to another baby gorilla in June 2011 and it is now 1 year and 3 months old. Also Musi one of the females gave birth to a baby gorilla in October 2011 and now is only 11 months old. The names of the Gorillas in this group are Bukwate, Bwoba, Musi, Kirwani, Ntamurungi, Birungi, Kaganga, Kajoka, Krombe (the black back gorilla), Nyakina, Busungu, Otaka, Kakobe, Muntu, Mutesi, Karimi, Bukyura, Kanywani, Wasiwasi, Toto and Kashura. Kakoba also had two twins but unfortunately, they died in two weeks after their birth.
The Park has only one Gorilla Family named Nyakagezi Group. The group is open for tourism but as per now, it is currently not bookable at Uganda Wildlife Authorities as it has a very large range and keeps on crossing from Uganda to Rwanda and Democratic Republic of Congo. It is composed of 9 members with 3 Silverbacks.
The size of this group is 13 members with 3 silverbacks which are the only ones named. The dominant silverback is called Rumansi followed by the other two old male gorillas named Rwigi and Ruhamuka. The group was opened for tourism in 2011 and is one of the newest groups in the Park found in the Rushaga sector close to the Nshongi and Mishaya gorilla groups.